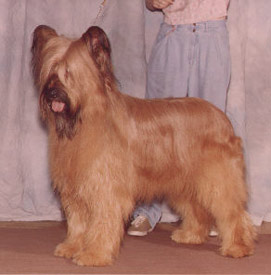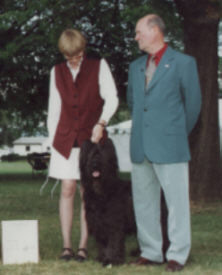 Eiledon's first litter (whelped June 17, 1995) was the result of a mating between 'foundation' dogs, Ch. Filou de Lutece, TT, CGC a tawny male and grandson of the herding legend Atlas (HCh Ch. Atlas de Lutece CDX HX TT HOF), and Dutch import Ch. Iota Adut Von de Hoolhoove, TT, CGC, HIC, a black female and offspring of dogs actively working with sheep on a farm. This litter produced a fine group of Briards whose natural herding instinct was evident when, at 12 weeks of age, one of the pups rounded up a 'herd' of daddy-longlegs spiders and had them waiting at the back door. This litter also had great success in the show ring and led to their dam, Iota, tieing for Number One Briard Brood Bitch in 1997. Meet the original Eiledon Von Hooligan Clan.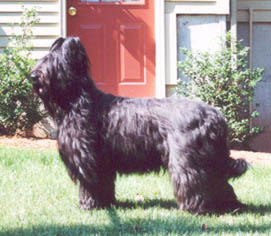 Ch. Luciole de Repartee, HS, co-owned by Karen Westerholm and Judy Conway, the full-time princess of Judy's husband Joe, and part-time Champion show dog. She finished her AKC Championship in 1997 along with her brothers Lucifer and Liege. She came out of show retirement for the BCA 2000 Rassemblement to recieve her Selection under French Judges M. Yanakis and M. Montenot.
Ch. Lucifer Lagniappe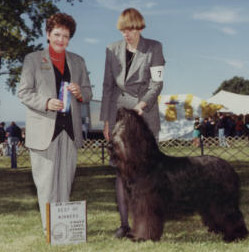 Ch. Lucifer Lagniappe, HIC, co-owned by Karen Westerholm and Jan & Susan Mashman, enjoyed living with his family in Connecticut between shows. Lucifer won the BCA 1996 National Bred By Exhibitor Class at the age of 13 months, under French Judge Mde. Combi. Shown to his championship in 1997, his hobbies included gently herding stuffed toys and small children.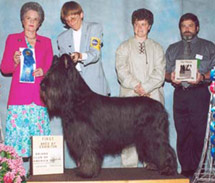 Eiledon's Licorice de Noir, TT, CGC, HIC, along with Eiledon co-owners Karen Westerholm and Beth Coughlin, following Licorice's winning the 2000 BCA National Specialty Bred By Exhibitor Class.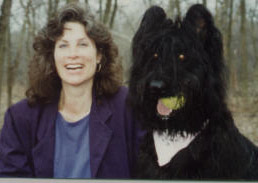 Eiledon's Lumiere is known by his call name, Logan. While not all Eiledon Briards have careers in the show ring, each one is special. Logan and his owner, Jan, won the 1997 Purina Dog Chow search for the Great American Dog for Jan's essay about their relationship. Jan wrote, "As certain as she's faithful, protective and exactingly obedient, she is uniquely individual. Her sense of humor is irresistible. With gentle sensitivity, she is lovingly responsive to my feelings."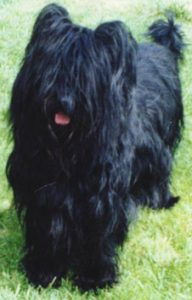 Eiledon's I Love Lucy is the dedicated pet of Eiledon's web designer, Dawn Shepherd. Dawn has also shared her home with Briards from Eiledon's 'R' and 'U' litters.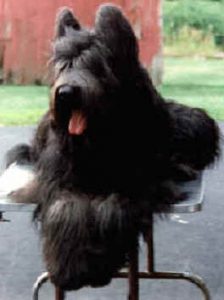 Ch. Eiledon's Liege, TT, CGC, TD, HIC  had the most extensive show career of all the Eiledon "L" crew. Leige was a multiple group placing dog and National Specialty Award of Merit winner (1998), and a very special boy, indeed. Leige earned an AKC sanctioned match Group 1, his Canine Good Citizenship and Therapy Dog titles on the same day, at only 10 months of age. He is pictured here in his favorite vantage point, as king of the grooming table.
Pedigree for Eiledon's 'L' Litter
Sire
Ch. Filou de Lutece, TT, CGC

Sire
Ch. Tison du Coteau d'Avranches HOF
Sire
Ch. Nestor de l'Eminence ROM HOF
Sire
Ch. Janus de la Ville Jumeaux
Dam
Ch. Tracy des Elfes de Malouse
Dam
Ch. Mousse du Coteau d'Antigo ROM HOF
Sire
Ch. Je Sambo Noir de Charlemagne
Dam
Ch. Joie de Vivre de Charlemagne
Dam
HCh Ch. Chanel de Lutece et l'Eminence CDX HX VT HOF
Sire
HCh Ch. Atlas de Lutece CDX HX TT HOF
Sire
Ch. Lindeaux Trademark ROM HOF
Dam
Ch. Tosca de l'Eminence CD TT HOF
Dam
Ch. Tiffany de l'Eminence CD HIC
Sire
Ch. Nestor de l'Eminence ROM HOF
Dam
Ch. Perrier de l'Eminence
Dam
Ch. Iota Adut Von de Hoolhoove, TT, CGC, HIC
Sire
Fr/Bel Ch. Pursan du Clos des Cèdres
Sire
James du Clos des Cèdres
Sire
Normand du Val de Reuil
Dam
Heidi du Clos des Cèdres
Dam
Bel.Ch. Julie du Clos des Cèdres
Sire
Sachem du Val de Lere
Dam
Hermione du Clos des Cèdres
Dam
Adut van de Hoolhoeve
Sire
Phoebus des Monts d'En Crouzille
Sire
Nuts d'el Pastre
Dam
Fr.Ch. Judith des Monts d'En Crouzille
Dam
Rejane d'el Pastre
Sire
Jolly Jumper di Casa Poni
Dam
Naia de la Porte de Choisy