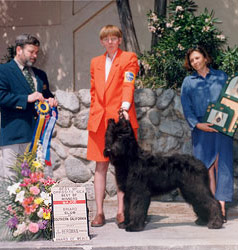 Eiledon's 'R' litter was whelped October, 12, 2000. At the tender age of six months, Eiledon's Raisen A. Rukus took the opportunity to "run with the big dogs" winning the Bred-By-Exhibitor Class under Judge Carl Liepman at the Atlantic States Briard Club Supported Entry. The next day he again took his class at the Regional Specialty under Judge Patricia Hastings.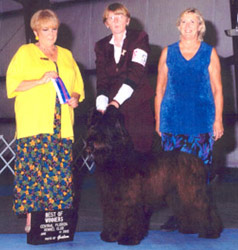 Ch. Eiledon's Random Mania, call name Taz, lives in Florida with Gwen and Don Burge. Taz has given Gwen and Don their first experience with dog showing, and he has gotten them off to a fantastic start, enjoying five straight Best of Winner's placements, on his way to earning his Championship.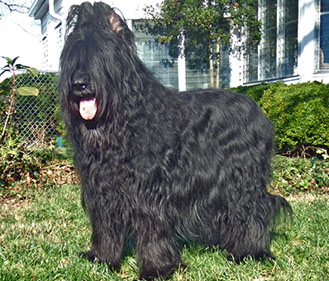 Eiledon's Raizel A. Riot ran away with Best Puppy in Sweepstakes at the Canadian National Specialty in Quebec under Sweepstakes Judge June Shew, and later took Best of Winner's, Winner's Bitch in the Bred-by-Exhibitor Class at the Western Reserve Kennel Club Show. After deciding that she would not fit into future plans for their breeding program, Raizel retired from the show ring and now lives in Virginia with her friend, Hairry, another Eiledon Briard.
Pedigree for Eiledon's 'R' Litter
Sire
Ch. Je Fantome Gris Chapeau-Lindeau
Sire
Ch. Hubert le Hallmark de Lindeau
Sire
Int/German/Lux/Belgian Ch. Onassis du Clos des Cèdres
Sire
James du Clos des Cèdres
Dam
Bel.Ch. Julie du Clos des Cèdres
Dam
Ch. Fleur-de-Lis de Lindeau HIC
Sire
Ch. Dakar du Chemin des Rocailles
Dam
Ch. U Know Dede la Voyageur du Lhut CD HIC TT
Dam
Ch. Fedora de Lindeau UD Can CDX NA CGC HIC
Sire
Ch. El Dragon Magique de Lindeau
Sire
Ch. Bazil du Moulin d'Eau ROM HOF
Dam
Ch. Votre Magic Marker de Lindeau
Dam
Lindeaux Alouette de Lutece
Sire
Ch. Lindeaux Trademark ROM HOF
Dam
Ch. Tosca de l'Eminence CD TT HOF
Dam
Ch. Iota Adut Von de Hoolhoove, TT, CGC, HIC
Sire
Fr/Bel Ch. Pursan du Clos des Cèdres
Sire
James du Clos des Cèdres
Sire
Normand du Val de Reuil
Dam
Heidi du Clos des Cèdres
Dam
Bel.Ch. Julie du Clos des Cèdres
Sire
Sachem du Val de Lere
Dam
Hermione du Clos des Cèdres
Dam
Adut van de Hoolhoeve
Sire
Phoebus des Monts d'En Crouzille
Sire
Nuts d'el Pastre
Dam
Fr.Ch. Judith des Monts d'En Crouzille
Dam
Rejane d'el Pastre
Sire
Jolly Jumper di Casa Poni
Dam
Naia de la Porte de Choisy