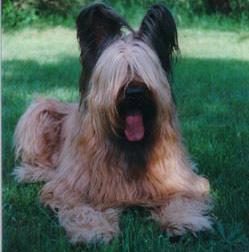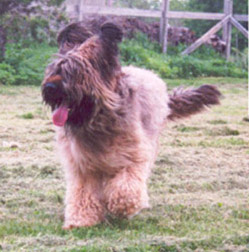 Eiledon's 'U' litter (whelped August 18, 2003) paired Ch. Briaramour's Nanook du Nord (sire) with Nita del Bel Pastur (dam). The pups from this litter have matured into wonderful dogs, reflecting their dam's easy-going temperament and sound structure. 'U' litter-mates have proven themselves as competent show dogs, outstanding pets, and have even shown excellent aptitude in obedience work. The dogs from this litter are all natural-eared tawnies.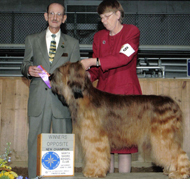 Uri (Ch. Eiledon's Uri de Lindeau) remained at Eiledon, becoming a favorite 'house dog', with promise for promoting the future of Eiledon's breeding program. Uri is a happy-go-lucky girl, who started her show career later than most, but has shown great promise and has achieved her championship title.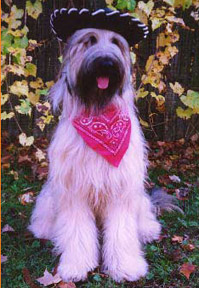 Eiledon's Ulchach Gasur de Lindeau, call name Hairry, lives in Virginia with Eiledon's web designer. Hairry is a very handsome and easy-going boy, who enjoys obedience work. When Halloween fell on obedience class day a few years ago, all the dogs went in costume. Hairry and his owner had 'practiced' wearing his cowboy costume several times prior to class day, without a great deal of cooperation on Hairry's part. However, when he got to class and saw all the other dogs dressed up, he proudly pranced around in his hat and scarf for the entire hour without complaint. Briards are very observant and quick to understand!
Eiledon's Ubjiorn de Lindeau, call name Biorn, lives in New Hampshire along with another Briard, several rescue sheep, and Giant Andalucian Donkeys. On the left, Eiledon Briards Co-Owner Karen Westerholm visits Biorn. On the right, Biron enjoys a favorite pastime, watching his sheep.
| | |
| --- | --- |
| Eiledon's Ubjiorn de Lindeau (Biorn) | Eiledon's Ubjiorn de Lindeau (Biorn) |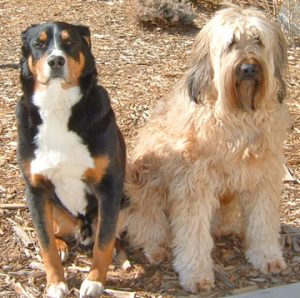 Eiledon's Ursa de Lindeau, call name Uli, lives in Colorado along with her best buddy, a Greater Swiss Mountain Dog. Uli's owner chooses to keep her coat clipped down for easier grooming.
Uan (Eiledon's Uan de Lindeau) lives as a much-adored family pet in Hagerstown Maryland. All of Eiledon's U littermates share a wonderful, easy-going temperament.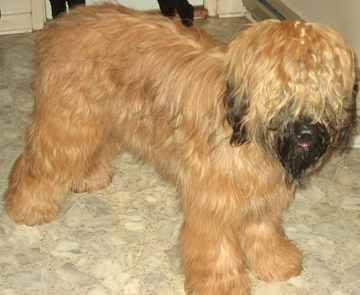 Pedigree for Eiledon's 'U' Litter
Sire
Ch. Briaramour's Nanook du Nord
Sire
Ch. Le Tres Beau Chien Distingue HIC
Sire
Ch. Bigtree's Twice Told Tales CGC
Sire
Ch. Nestor de l'Eminence ROM HOF
Dam
Bigtree's Phaedra
Dam
HCh Ch. Chanel de La Tres Belle Chien Renee
Sire
Ch. M&M's Roefa
Dam
Ch. Aimee de Julie
Dam
Ch. Liberte Blonde de la Tour Saint Genin HIC
Sire
Bel.Ch. Nash du Domaine des Cyprès
Sire
Int Ch. Gerare du Mont Brindille SchH I
Dam
Gaia du Domaine des Cyprès
Dam
Bianca de Cro Magnon
Sire
Ch.MG.ESP UK de Cro Magnon
Dam
Ch.MG. Saga du Clos du Vic
Dam
Nita del Bel Pastur
Sire
Helios du Domaine des Sources Claires
Sire
Int.Ch. Kaly du Bois d'Howis
Sire
Grisou du Bois d'Howis
Dam
Randa des Fosses de Saule
Dam
Fr.Ch. Bibiche du Clos des Chapeaux
Sire
Fr.Ch. Ouill des Carrières Noires
Dam
Rainette de l'Cinse a Mouqu's
Dam
Jazzmusic del Bel Pastur
Sire
It.Ch. Gédéone del Bel Pastur
Sire
It.Ch. Allof del Bel Pastur
Dam
Darba del Bel Pastur
Dam
Femme del Bel Pastur
Sire
Bourbon des Carrières Noires
Dam
Cassy