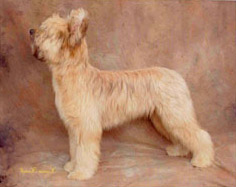 Eiledon Briards was founded in 1990 when Karen Westerholm brought home her first Briard, Am. Ch. Filou de Lutece, TT, CGC, Rassemblement Select 1995. Three years later, Karen imported Dutch-bred bitch, Am. Ch. Iota Adut Von de Hoolhoove, TT, CGC, HIC, Rassemblement Select 2000, and so began the tradition of a house full of "Von Hooligans".
Careful research, dedication and a genuine interest in the future of the breed have yielded significant results in a relatively short history. Eiledon's Briards have been awarded many accolades and ribbons in the show ring, and equally important, have provided many dog-lovers and families with faithful companions. Perhaps among Eiledon's most cherished of accomplishments are two of dogs that work as professional therapy dogs, a veteran female that provides unconditional love and attention to seniors, and a young male that works with special-needs children.

Eiledon Briards is committed to making the right match when placing our dogs in a permanent home. We interview potential owners carefully to make sure that they understand the special challenges of Briard ownership, and are equipped and able to care for a large dog. We provide instruction and guidance for our new puppy owners to ensure that each dog's needs are met. We are available to give advice to owners for the lifetime of our dogs. At any time should one of our owners find that they are unable to properly care for their Briard, we will find a loving home for them. We never stop caring about the dogs we breed, and we always put their happiness and health above all else when placing them.