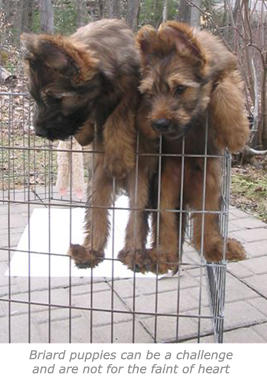 At Eiledon Briards, when we place a Briard in a new home, our primary concern is always that the puppy or dog receives the appropriate care. With a combined 30 years of experience with Briards, and 60 years total living with various breeds, we have learned many lessons that we like to pass along to those who take one of our dogs into their home.
This section of our web site deals with feeding, general health care, caring for cropped ears, identifying and preventing bloat, plants that are toxic to dogs, and other topics of interest to Briard owners.
Download a pdf file with Briard Care information.
If you choose to share this information with others, we would appreciate you crediting Eiledon Briards and this website.