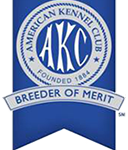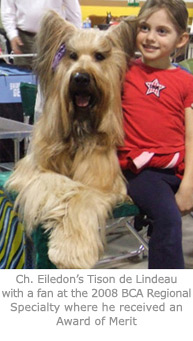 Eiledon Briards breeding program emphasizes quality over quantity, and strives to fulfill their Charter, "to breed Briards outstanding according to standards held on both sides of the Atlantic for conformation, working ability, temperament, soundness and performance."
All Eiledon puppies, whether deemed to be show or pet quality, are placed in homes where the dog's well-being is the foremost concern. Prospective owners are carefully screened, and those found qualified to accommodate the unique needs, challenges, and rewards of Briard stewardship, are sent home with valuable information on raising and caring for their puppy. The Eiledon team is always available to share their extensive knowledge of the breed, and dogs in general. They have a genuine interest in the dogs that they breed, and their owners.
Traditionally, all French dogs born in one calendar year are given names beginning with the same letter. The naming cycle repeats on a 20-year basis. (The letters "K", "Q", "W", "X", "Y" and "Z" are not used.) Eiledon Briards has produced six litters: "L" in 1995, "R" in 2000, "T" in 2002, "U" in 2003, "F" in 2010, and "H" in 2012 .
Eiledon's 'L' Litter
The first Eiledon litter, a 1995 mating of Ch. Filou de Lutece, TT, CGC (sire) and Ch. Iota Adut Von de Hoolhoove, TT, CGC, HIC (dam), produced three American Champions, two Rassemblement Select and one Rass Pre-Select placements, and a Group Placing Dog that earned an Award of Merit at the 1998 BCA National Specialty. This litter's success in the show ring allowed their dam, Ch. Iota Adut V.D. Hoolhoove, to tie for Number One Briard Brood Bitch in 1997.
Eiledon's 'R' Litter
In 2000 a mating of Ch. Je Fantome Gris Chapeau-Lindeau (sire) and Ch. Iota Adut Van De Hoolhoeve (dam) produced Eiledon's second litter. One of the dogs from this litter, a black female, was the 2001 National Canadian Briard Club Specialty Puppy Sweepstakes winner. A black-born grey male earned a Best of Opposite Sex at the Independent California Briard Specialty. Another black-born grey male from this litter has achieved Herding Group Placement.
Eiledon's 'T' Litter
In 2002 a third Eiledon litter paired Ch. Eiledon's Lucifer Lagniappe HIC (sire) and Nita del Bel Pastur (dam). This litter produced Ch. Eiledon's Tison de Lindeau, a tawny male who, at just 11 months, earned Reserve Winner's Dog at the 2003 Brirad Club of America National Specialty. Tison is a group winning and placing dog, and took home an Award of Merit from the 2008 BCA Regional Specialty.
Eiledon's 'U' Litter
A fourth litter, mating Ch. Briaramour's Nanook du Nord (sire) with Nita del Bel Pastur (dam), was whelped in 2003. The decision was made to maintain these pups as natural-eared. A beautiful tawny female from this litter, Ch. Eiledon's Uri de Lindeau, has remained with Karen and Beth at Eiledon.
Eiledon's 'F' Litter
A fifth Eiledon litter was whelped January 8, 2010. The sire, Ch. Sagi Bailywick Tintagel's Pride (Tai), is a natural-eared, black boy owned by Elise McMahon. The dam for this litter, Eiledon's Teeha de Bejaune (Teeha), was rated as Excellent at the 2008 Rassemblement. All of the 'F' Litter puppies are natural-eared blacks.
Eiledon's 'H' Litter
8 puppies were whelped on March 7, 2012. 4 males and 4 females, 7 blacks and one tawny female. The sire, Eiledon's Faustus, is a natural-eared, black boy. The dam for this litter, Ch. Bigtree's Banyon d'Eiledon, is the fourth-generation offspring of our foundation dogs from nearly twenty years ago, Ch. Filou de Lutece, TT, CGC and Ch. Iota Adut Von de Hoolhoove, TT, CGC, HIC.
Eiledon is particularly proud of their dogs accomplishments in the show ring, as all have been either breeder or owner handled.